Vince Carter Goes All Out For His Team Camp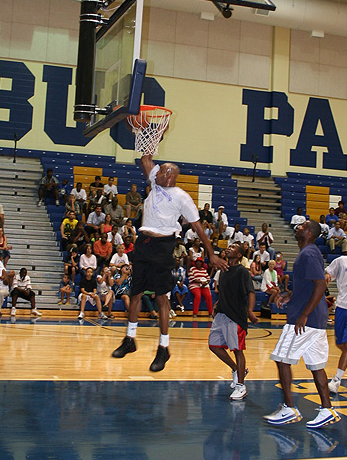 Vince Carter could have made his 8:30 a. m. welcome speech a quickie Tuesday night and then slipped out the back door of the palatial six-court Mainland gym named in his honor. 
One moving screen by NFL linebacker Buster Davis—another of the former Bucs greats on hand—and the high flying NBA star easily could have dodged the big crowd at his Vince Carter boys basketball team camp.
But that's not Vince.
Vince is the guy who was serious and sincere in a message he delivered, even after the public address system failed and he had to admonish a cluster of players who were chattering instead of listening.
Vince is the guy who stuck around for a photo with every award recipient.
Vince is the guy who was right in the middle of a huge circle of fans who spilled onto the floor to marvel at 5-foot-6 Fred Miller of Jacksonville Raines throwing down a 360-degree jam in the dunk contest.
And Vince is the guy who was still in the gym as players, coaches and families finally cleared out at 11 p.m.
"This camp has my name on it," Carter said at the end.  "I don't want to not be here and have people tell me what I missed."
The coolest prize he handed out didn't go to the dunk champ or MVP of the all-star game.  The "Total Package" award—an encased, autographed Carter jersey from the New Jersey Nets—went to DeLand's Logan Murray, who best exemplified qualities Carter stresses with a 4.39 freshman grade-point average and service to his school, church and community.
Lauderdale Lakes Boyd Anderson took the camp championship with a victory against Pompano Beach Ely on Wednesday.  Daytona Beach Seabreeze made the final eight for the best area finish.
By Buddy Collings
Orlando Sentinel, June 26, 2008