Embassy of Hope Hall of Fame Awards Recognizes Outstanding Citizens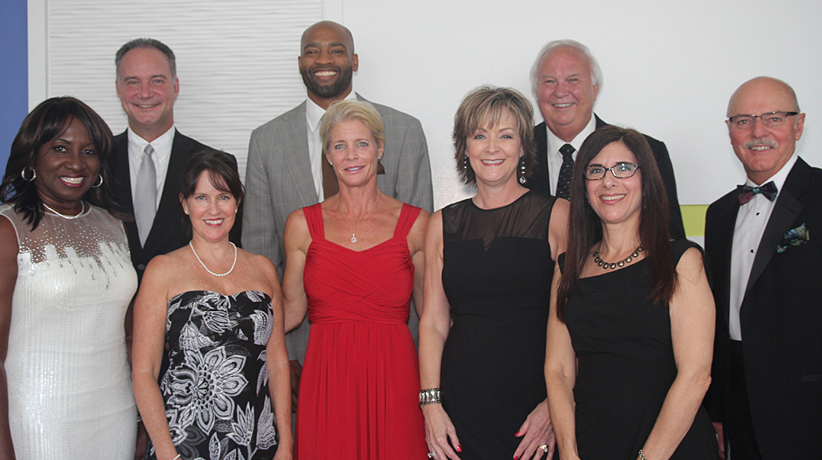 Vince Carter's Embassy of Hope Hall of Fame inaugural awards were received by Dr. James Huger and Dr. Glenn Ritchey on Friday, August 15, 2014 at the Ocean Center Daytona Beach. A host of family, friends, and corporations attended the Vince Carter Charity Gala to honor these two outstanding community leaders and help raise funds to support women's and children's programs in our community and the Embassy of Hope Foundation Scholarship Fund. Both recipients spoke highly of Vince Carter, his mother Dr. Michelle Carter-Scott, and the foundation and praised them for setting an example for young people to follow. For Dr. Huger and Dr. Ritchey giving back and supporting our community is a way of life. They have richly blessed our area with their time, their talents, and their resources. We are indeed blessed by their efforts.
Two of the Embassy of Hope Foundation's three scholarship recipients from the 2013-2014 school year were in attendance, Ms. Elecksa Barrs-Richards and Ms. Amberlynn Beers. Ms. Barrs-Richards, a graduate of Mainland High School, will be attending Bethune-Cookman University and Ms. Beers, a graduate of Seabreeze High School, will be attending the University of Florida.
The Vince Carter Charity Gala hosted by Halifax Health is an annual fundraiser that brings the community together to participate in both live and silent auctions, excellent hors d'oeuvres, and this year, dancing to the sounds of Pocket Change, the live band. A great time was had by everyone and we look forward to next year's event.