Florida VCYBA 2008 Scores Big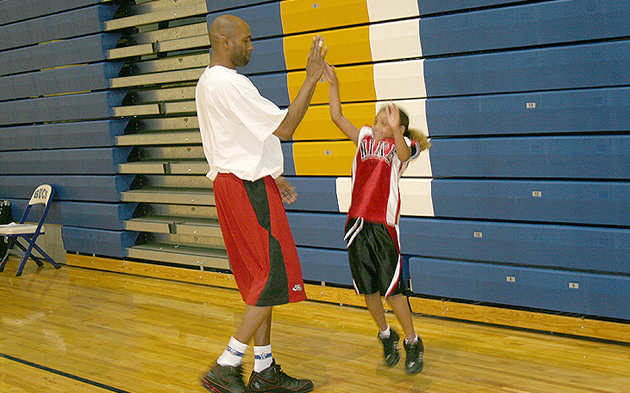 The Vince Carter Athletic Center at Mainland High School once again hosted the Vince Carter Youth Basketball Academy.  Boys and girls, ages 8 to 17, participated in the camp that featured two daily sessions that allowed Vince to focus on specific age groups at different times of the day.  The split-session format allowed for more actual on court activity for the campers.
Vince's camp is unique because it is centered on a basketball to life concept.  Vince engaged the participants in a variety of activities that included basketball skill building, personal growth and development, life management skills and more.  As always, Vince's constant presence at the camp allowed the campers an opportunity to interact with Vince on a variety of levels.
In addition to a week of fun and instruction, campers received a camp t-shirt, Gatorade bottles, and special prizing.  Each camper also received a team picture with Vince and an autograph on the item of their choice.  Special awards from the NBA were given to "Campers of the Day".  Campers who exhibited the values that Vince builds his camp around earned All-Star towels, t-shirts, and other memorabilia.
Vince not only provided personal instruction on the finer points of basketball, but also demonstrated his skills by showing the campers his abilities on the basketball court in the annual Mainland Legends game.  Former Mainland basketball greats, Chase Tramont and Joe Giddens, returned to thrill the crowd with a dazzling array of moves and shots.
Whether focusing on his five factors of success or focusing on the rim for a thunderous slam dunk, Vince Carter once again provided a special camp opportunity in a way that only he can.  Vince is currently planning next year's camp, which will be held at the Vince Carter Athletic Center in Daytona Beach.  Check Vince's website often for upcoming details on how you can register for next year's camp.
Hope to see you there!