Vince Carter Youth Basketball Academy 2011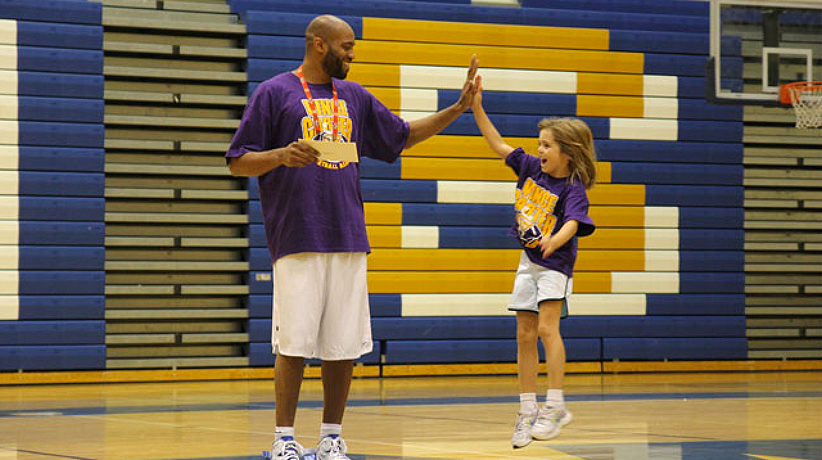 The 15th annual Vince Carter Youth Basketball Academy, held from July 18-22 in Daytona Beach, FL, once again proved to be one of the premier professional athlete youth camps in the nation. The Academy featured weeklong morning and afternoon sessions. Each session focused on specific age groups and skill sets. As always, Vince coached the entire camp all day, every day. Campers and parents alike appreciated the personal touch Vince added to the Academy.
The coaching staff featured educational professionals and former professional athletes. The combination of experience and expertise provided each camper with a positive, nurturing and fun environment. Each player received a personalized evaluation and reminder of skills to work on throughout the year. The "basketball to life" concept employed by the VCYBA allowed the coaches to emphasize Vince's "5 Factors for Success." Each day, the campers focused on the concepts of Vision, Balance, Teamwork, Hard Work and Perseverance.
On Friday, the Academy closed on an exciting note with the annual coaches' game. The game this year featured many of Vince's former high school teammates including Mike Moten, Donnie Gray, Joe Giddens and Duwayne Pelham. As always, the game was very competitive and highlighted by excellent long range shooting and several of Vince's trademark dunks. At the end of camp Vince took the opportunity to honor a 10 year camp veteran, Abby Steele. Abby is entering her senior season in high school and has attended the VCYBA every year she has been eligible. We look forward to seeing Abby in a coaching role at the camp in the near future.
Plans have already begun for next year's VCYBA. We look forward to updating the format of the camp to bring a new approach to the camp structure. Check back often to VinceCarter15.com to stay updated on camp news and your opportunity to participate in 2012.