Vince Carter's 21st Annual Charity Gala-A Huge Success!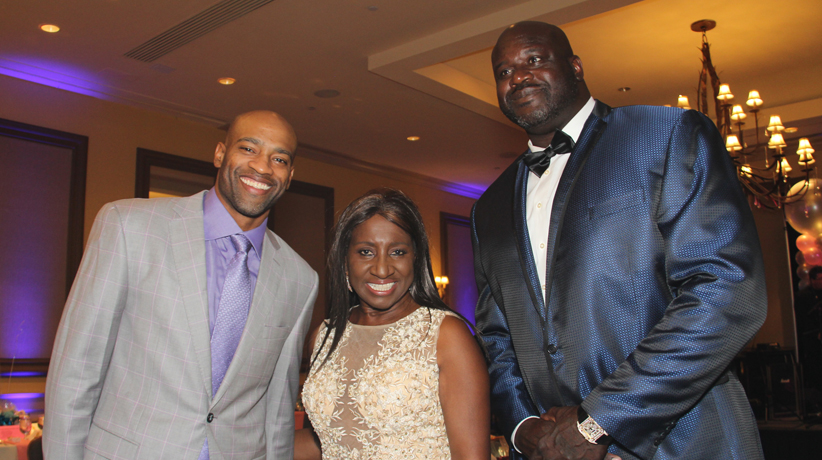 For 21 years Vince Carter and his Embassy of Hope Foundation have been hosting community members at the annual Vince Carter Charity Gala. On August 18, 2018 at The Shores Resort & Spa, friends, family, and community leaders came together to recognize the outstanding work of Lucille O'Neal and Jill Simpkins. They were the recipients of the 2018 Embassy of Hope Foundation Hall of Fame Award. "Mama O'Neal has impacted so many youngsters and adults with her upbeat message of 'can do' and Jill Simpkins works tirelessly to help individuals and children who need help," said Carter, former NBA All-Star and member of the Atlanta Hawks. A surprise visit from Shaq, Lucille O'Neal's son, was a real treat and a big surprise to his mother.
"This gala is one of my favorite fundraising events," said Carter. "It is an opportunity for people to come together, enjoy themselves and help us raise money for local programs within our community." The gala, a black-tie optional affair, included entertainment by MPiRE, plenty of food, recognition of the foundation's scholarship winners, and lots of fun. There was a silent auction of numerous gift baskets donated by friends and members of the Embassy of Hope Board of Directors, as well as exquisite jewelry available for purchase from J'aime Bijoux LLC, wholesale private jeweler Jaime Yeomans. Attendees also had a chance to get their picture taken with Vince as a keepsake for the evening.
In addition to the dancing, auctions, and camaraderie, attendees enjoyed "off the cuff" vintage Vince Carter comments about his career, his desire to help others, and his dreams for those less fortunate. "It doesn't get any better than this," said one of the gala attendees.
Proceeds benefit children and family programs and the Embassy of Hope "Believing in Your Dreams" Scholarship Fund. Since its inception in 1998, Carter's Embassy of Hope Foundation has donated over 1.9 million dollars in the United States and Canada.