500 LEVEL & NBA Super Star Vince Carter Launch 'VC Signature Series' Apparel To Benefit Foundation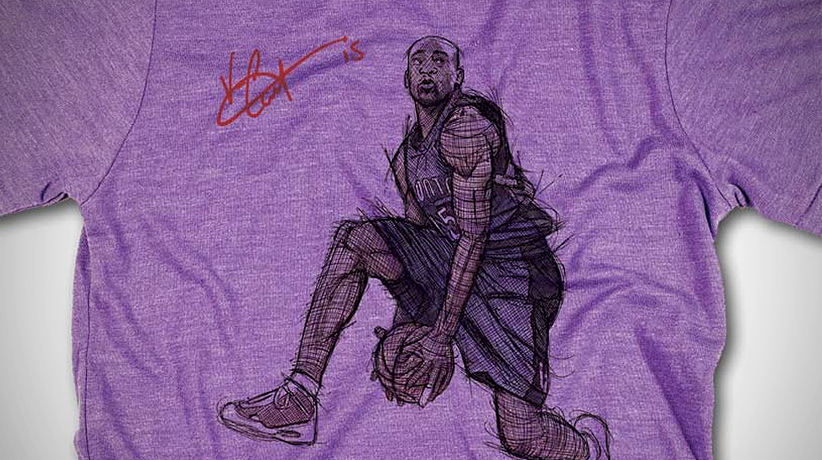 Austin, Texas (October 29, 2015) – 500 LEVEL, a "for fans by fans" sports apparel company based in Austin, Texas, is pleased to announce its partnership with Vince Carter– an eight-time NBA All-Star, Slam Dunk Champion, Olympic gold medalist, future hall of famer, and member of the NBA's Memphis Grizzlies.
500 LEVEL, currently a licensed NFL Players Association and NHL Players Association company, is uniquely operating in the sports apparel space by encouraging fans to submit their original artwork. Designs are later voted on by other fans, and those that win the popular vote become available for purchase on 500LEVEL.com.
Carter, known for his legendary leaping abilities as well as his philanthropic work, saw the opportunity of working with 500 LEVEL as another chance to give back by donating 100% of his portion of sales to The Embassy of Hope Foundation, a non-profit organization he established in 1998. The organization's slogan, "Believing in Your Dreams," represents Carter's lifelong commitment to perseverance and achievement—qualities that have enabled him to excel as an athlete and as a person devoted to helping those less fortunate.
"I know this is something my fans have been asking about for quite some time now," said Carter. "But having the opportunity to give my fans what they want and having the chance to give back at the same time made this the perfect marriage."
The Vince Carter Signature Series 500 LEVEL apparel is now available for purchase via Vince's official website, VinceCarter15.com, as well as 500LEVEL.com.
ABOUT THE EMBASSY OF HOPE
The Embassy of Hope is a non-profit foundation established in 1998 by NBA basketball star, Vince Carter, to help address the needs of children and their parents. Embassy of Hope is a Florida-based 501(c)(3) charitable organization.
The Foundation's slogan, "Believing in Your Dreams," represents Vince's lifelong commitment to perseverance and achievement—qualities that have enabled him to excel as an athlete and as a person committed to helping those less fortunate. Vince loves kids and he is convinced that through love, direction, and support, children can reach their potential and follow their dreams successfully. Through the Embassy of Hope Foundation, Vince has established the framework for others to join him in helping children reach their full potential. You can learn more at: http://vincecarter15.com/embassy-of-hope/
ABOUT 500 LEVEL
500 LEVEL is a Chicago-based apparel company where artists and designers create fan-driven sports designs. Founded in 2012, 500 LEVEL is an official partner of the National Hockey League Players Association (NHLPA); National Football League Players Association (NFLPA); and several foundations including Project 375, the Walter and Connie Payton Foundation and others. 500 LEVEL began with t-shirts and has since expanded, putting a unique spin on comfortable men, women's, kids and toddler fan apparel. Website: 500LEVEL.com