VINCE CARTER'S FIFTH ANNUAL PINK WALK/RUN A SUCCESS!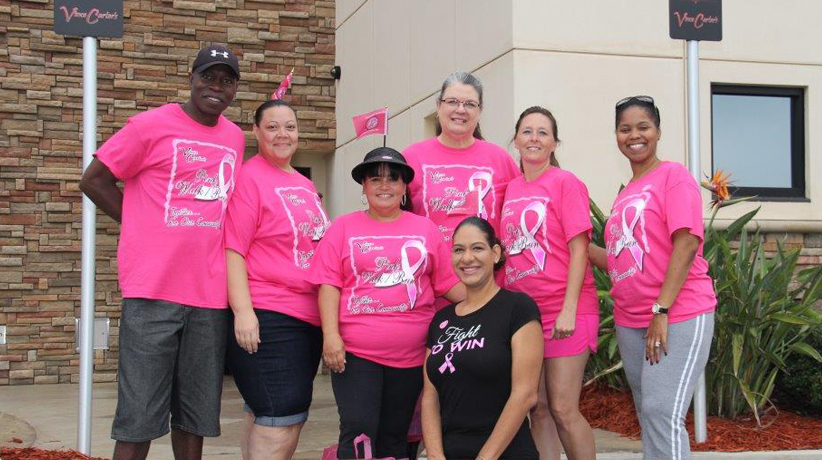 Over 200 enthusiastic participants registered for the fifth annual Vince Carter's Pink Walk/Run on Saturday, October 3, 2015. Hosted by Vince Carter's Restaurant and the Embassy of Hope Foundation, the walk/run kicked off at 9:30 a.m. The dedicated walkers, runners, and bicyclists came together to show how a community can help make life better for everyone, get a little exercise, and have fun. Proceeds from this event will go to area hospitals to assist women who cannot afford mammograms.
Vince Carter's, a community minded restaurant, is owned by Memphis Grizzlies star, Vince Carter, and his mother, Dr. Michelle Carter-Scott. Since they have lost family, friends, and even a former teammate of Vince's to cancer, they agree that "whatever can be done to help with early detection and a hope for a cure must be tried."
This year's event raised a little over $11,000 to be put back into our community.
We extend our deepest gratitude to our sponsors and ask that you help us thank them by patronizing their businesses, where appropriate.
Florida Hospital Memorial Medical Center
Halifax Health
Hometown News
Daytona Beach Rugby
Intracoastal Bank
Ann, Denise, Traci, Rhianna & The Shepards
Atlantic Foot & Ankle Associates
Butch and Denise Griffin
Jon Hall Chevrolet, Inc.
Kennedy Kars
Painting With a Twist Daytona Beach
Ritchey Cadillac-Buick-GMC
S. R. Perrott, Inc.
Tammy Griffin & Terry McDaniel
B-CU Cancer Biology and Outreach Group
Biometric Utility Consultants, Inc.
Cullers Chiropractic Center/Kayla
Emerald Spa & Nails
For All Our Girls . . . Keri, Sam & MC
Mary and Ted Bennett
Permanent Makeup by Beverly/Secretly Youthful
Simply Roses Florist
The Burkes
Tiffany N. Sholtz, Ed. D